MF/HF DSC Receiver ELMAN DSC-1097
The DSC Decoder, mod. DSC 1097, is a MF/HF receiver for Navtex/DSC communication decoding, compliant with international recommendations. 
Frequency range for the receiver is 50 kHz to 30 MHz; modulations supported are F1B and J3B. The device can receive the six frequencies in the MF and HF bands used for DSC communications with automatic sweep.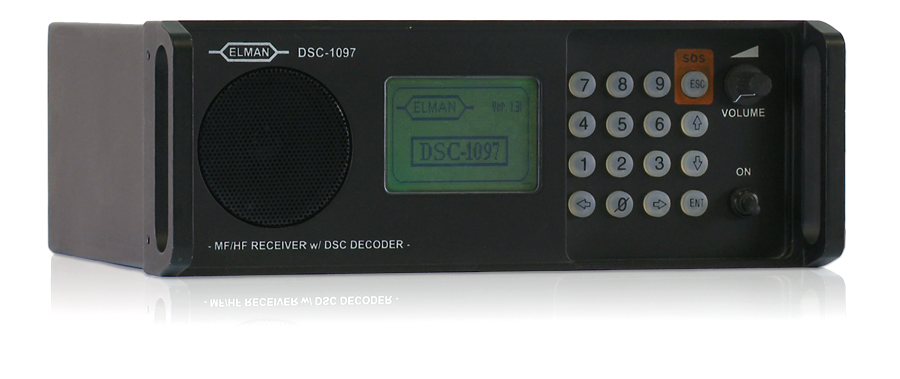 The user can interact with the DSC‐1097 MF/HF receiver through its keyboard and graphical display. Device includes self‐test functions (BITE: Built In Test Equipment), to enable easy detection of faults and can be remotely controlled through a simple serial communication line (RS‐232 or RS‐422), using as a controller, for instance, any off‐the‐shelf personal computer including suitable software. The DSC-1097 receiver is capable of Digital Selective Calling (DSC) operation according to latest versions of regulations ITU‐R M.493 and ITU‐R M.541. It is also meant to decode NAVTEX communications on 518 kHz and 490 kHz. It is provided with a built in Scanner function, for automatic scanning of 518, 490 and 4209,5 kHZ frequencies.
Technical features:
| | |
| --- | --- |
| Frequency range | 50 KHz ÷ 30 MHz |
| Operative mode | Analogue clear phone, Navtex decoding, DSC Decoding |
| Modulation type | F1B, J2B |
| Frequency accuracy | Better than ± 2 p.p.m. |
| RF impedence | 50 Ω (unbalanced) |
| Diagnostic | BITE |
| Power input | 220 Vac (or 115 Vac) / 24 Vdc (18÷40 Vdc) |
| Fuse | 1A (AC), 5A (DC) |
| Operating temperature | -20 °C ÷ +55 °C |
| Dimensions (w x h x d) | 264 x 94 x 218.4 mm |
| Weight | 5 kg |
| Input module | Keyboard |
| Output module | LCD Display |
| Remote interface | RS232 - RS422 |