State of the art gyro compasses from IX Blue are setting new standard in navigation with space effective, high reliability and maintenence free solutions.
In our scope we can provide:
OCTANS
High-performance surface gyrocompass and motion sensor
OCTANS is a solid state strapdown gyrocompass and motion sensor, based on Fiber Optic Gyroscope (FOG) technology. It is a 6-axis motion sensor that outputs highly accurate true heading, motion, speed and acceleration data. IMO-certified OCTANS is ideal for all surface vessel applications.
FEATURES
• Complete gyrocompass and motion sensor
• Smart heave TM
• Fiber-Optic Gyroscope (FOG), unique strap-down technology
• Ethernet, WEB-based Man-Machine Interface (MMI)
• IMO Certification
• Small, portable plug and play system
APPLICATIONS
• Navigation • Survey • Dynamic positioning • Motion monitoring • Sensor stabilization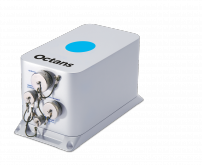 QUADRANS
IMO grade surface gyrocompass & attitude reference system
QUADRANS is a fully strapdown Fiber Optic Gyrocompass and attitude reference system. IMO and IMO-HSC certified, it provides at a fast rate and with precise time stamping all the necessary data for demanding navigation and control applications. Thanks to its low weight and small size, its low power consumption and its ethernet/serial connectivity it can be integrated very easily on any platform.
Based on Fiber Optic Technology, QUADRANS does not require any maintenance during its service life which makes it most cost effective solution in longer terms.
FEATURES
• Small compact and plug & play system
• Complete gyrocompass
• Fiber-Optic Gyroscope (FOG), unique strap-down technology
• Ethernet, Web-based Man-Machine Interface (MMI)
• IMO Certification
APPLICATIONS
• Container ship • Cargo • Bulk • Cruise ships • Ferries • Yachts • Drilling ships
• Fishing • Research vessels • Survey vessels • Scientific • Seismic • Marine construction
• Workboats • Tugs • Ro-Ro • Fast Patrol boats • DP operating vessels