Wärtsilä reporting services help users to meet the contractual requirements and respect environmental regulations. Automated and error free reporting eliminates routine tasks and decreases risks relating to regulatory and stakeholder claims. The reports are compiled from common data to allow greater transparency and other value adds.
Highlights: 
C/P compliance voyage report, generated automatically. Provides independent assessment of voyage
C/P performance and claims.
C/P Risk Management Tool kit, providing visibility of claims risk and notifications 
Pre-populated MRV report based on report and ECDIS data
Automated IMO DCS as sub-set of EU MRV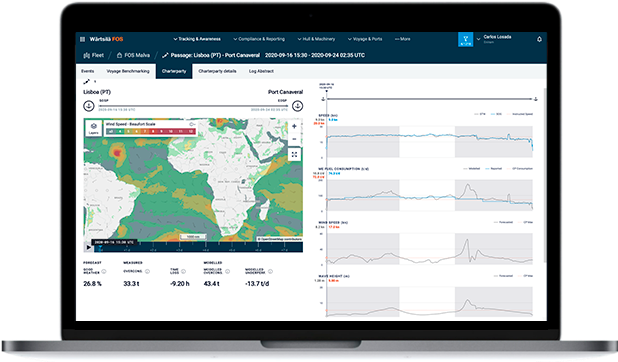 Commercial Compliance
All chartered vessels need to fulfil contractual requirements regarding their performance in terms of speed and fuel consumption in good weather conditions while sailing, and typically fixed consumption limits for port stays. Charter companies, often with the help of their own software systems or weather routing, will control this and often claim over-consumption or time lost on a voyage.
We help you to stay on top of your contractual conditions for all your vessels by:
Early notifications if the charter party conditions are not met, and if you run a risk for claims for the whole voyage
Speed – consumption dashboards and analytics that visualize potential issues
End of voyage reports to summarize the commercial performance throughout the voyage according to the specific charter party conditions
The data are based on our onboard innovative SmartLog system that takes over existing ship-to-shore reporting processes, while minimizing manual input and maximizing data quality.
Enviromental Compliance
Environmental schemes have existed in shipping for many years. These include the financially attractive Environmental Ship Index (ESI, link to environmentalshipindex.org), Clean Cargo Working Group (CCWG, link) or the Clean Shipping Index (CSI). All of them, however, have been non-mandatory. With the introduction of the European Monitoring, Reporting and Verification (EU-MRV) scheme in 2018, and the response from the IMO with its Data Collection Scheme (IMO-DCS) in 2019, this has changed. For both schemes, shipping companies need to collect and report voyage data and have its consistency and plausibility verified.
We help you to manage your environmental compliance without additional effort by:
Producing the needed annual emission and fuel consumption reports to be submitted to the EU or flag state
Early notification if data consistency and plausibility is at risk so that the crew can correct them right away
Showing you all needed levers to actually reduce your consumption (see Vessel and Voyage Efficiency page)
The needed data is produced automatically from our innovative onboard SmartLog system that takes over existing ship-to-shore reporting processes, while minimizing manual input and maximizing data quality.
Wärtsilä SmartLog
SmartLog is our innovative way of capturing data from onboard vessels. While many newbuilds come with automatic data collection units that connect navigational information with fuel and engine measurement equipment, many ship owners choose not to retrofit these on existing vessels. SmartLog now takes all relevant nautical information from our NaviSailor ECDIS and prefills the standard ship to shore reports with it:
Departure, noon, arrival reports
Cargo and bunker loading and discharge reports
In addition it allows on the spot setting of time stamps for changing operational modes, such as Begin or End of Sea passage, Stoppage, or Begin or End of Cargo work.
In the future, SmartLog will also include all paper-based information still used today.
SmartLog comes as an app on our bridge tablet, and is as easy to use as the apps used in daily life.