Mobile systems capable of providing all VSAT functionalities - wherever.
FLYCAST
FlyCast, a quick-deploy communications system, is a portable turnkey unit that enables first responders, NGOs, exploration teams and peace-keeping forces to access voice, internet and data services anytime, anywhere.
Mobile Satellite Services
Working with global providers such as Inmarsat, Iridium and Thuraya – SpeedCast delivers cost efficient voice and data connectivity via L-Band offering a wide range of L-band Mobile Satellite Services (MSS) catering to every requirement, wherever needed around the globe. SpeedCast provides MSS/L-band equipment and services to the maritime, terrestrial, energy and government/disaster-recovery sectors.
Maritime MSS
SpeedCast defines a new standard in MSS/L-Band communications for any vessel. Global data and voice calling options are available, providing essential connectivity for ocean going vessels. Selection of the correct L-Band provider for your organisation's requirements can be daunting. SpeedCast can help balance costs associated with maritime regulatory and reporting requirements 
Land MSS
Businesses operate almost anywhere on the globe, frequently out of the range of terrestrial mobile networks. SpeedCast enables data and voice connectivity globally, providing cost effective and dependable links to remote sites. SpeedCast also augments land-based VSAT links with L-Band backup providing Out of Band Management (OBM) for link recovery.
Government MSS
SpeedCast delivers MSS/L-Band solutions to several major governmental agencies and NGO's around the world. Security, reliability and flexibility are the foundations of the SpeedCast governmental MSS services. Our technology agnostic approach always ensures that we supply the best-fit solution, wherever and whenever needed.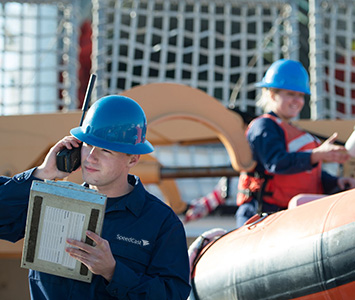 ClipWay
SpeedCast's Clipway solution is a universal, software-based audio and video transmission tool that integrates with our global VSAT services to deliver real-time, high-quality stationary or on-the-go audio and video broadcasts from any remote location around the world.