Our Sonar Systems Division (SSD) has built a strong expertise in designing, developing and manufacturing active transducers from a few hundred Hz to hundreds of Khz with associated matching units & power amplifiers, and also passive sensors such as hydrophones.
By combining the iXSea acoustic and inertial knowledges, we have developed one of the most advanced and accurate seabed imaging and mapping solutions with unrivaled swath capacities: the Shadows synthetic aperture sonar.
Our product range also includes Sub-Bottom Profiler systems (ECHOES family) and an industry leading software suite, DELPH which covers the acquisition, processing and interpretation of side-scan sonar, seismic and magnetic data.
SHADOWS
High productivity seabed mapping sonar
Shadows is a side scan sonar providing a revolutionary concept based on ortho-rectified and georeferenced image. It is a perfect choice for hidrography, geophysical and oceanographic survey.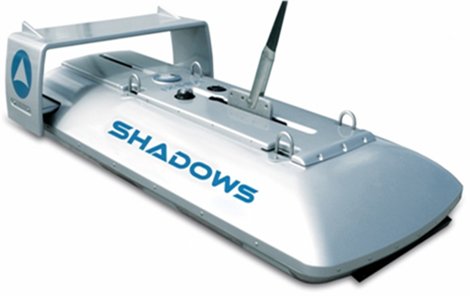 FEATURES
15 cm along and across track
Up to 600m swath
Frontal looking sonar (GAP filler)
Real Time orthorectified imagery
Client-server architecture
Standard data format
Complete system solution
BENEFITS
Constant image resolution with no beam distortion over the whole range
No gap at nadir
Full featured system from data acquisition to charts production
APPLICATIONS
Hydrography
EEZ mapping, Law of the Sea
Environmental & Marine protected areas
Offshore & Route survey
Debris survey
Pre/Post Dredging
ECHOES 3500
Pole mounted or towed sub-bottom profiler solution
ECHOES3500 is a low frequency, high power, wide band sub-bottom profiler (SBP). This hull mounted system is highly focused enabling high resolution imaging. It is perfect for all weather sensitive operations in medium to deep water.
FEATURES
Full package: antenna, rugged rack, PC and software
Flat-spectrum, high-directivity CHIRP antenna emission
22 cm resolution
Databasing of all information
BENEFITS
Turnkey vessel equipment solution
Very low profile distortion
Unparalleled data quality at full ocean depth
Ready for DELPH SEISMIC INTERPRETATION
APPLICATIONS
Full-ocean depth site investigation
Foundations
Engineering
Resource assessment
Shallow gas
ECHOES 1500
Low frequency sub-bottom profiler solution
Successor of the boomer/sparker technology, featuring single transducer repeatable sound source, ECHOES 1500 is a handy turnkey survey solution with towing system. It includes DELPH SEISMIC ACQUISITION and turns into full feature survey tool with DELPH SEISMIC INTERPRETATION productivity software.
FEATURES
Full package: antenna, rugged rack, towing buoy system, PC and software
Flat-spectrum, high-directivity CHIRP antenna emission
27 cm resolution
Databasing of all information
BENEFITS
Easy setup turnkey survey solution
Very low profile distortion
Unparalleled data quality at full ocean depth
Ready for DELPH SEISMIC INTERPRETATION
APPLICATIONS
Shallow water to full ocean depth survey
Offshore mining, cable route investigation
Environment and continental shelf survey